stories
From Upheaval to Hope, Being Mercy for the Storm-Ravaged People of Texas
By Sister María Luisa Vera, president, Mercy Ministries of Laredo
"This is your life, joys and sorrow mingled, one succeeding the other."
—Letter from Catherine McAuley to Frances Warde, May 28, 1841
The week of the February storms was a challenging one for our two ministries in Laredo, Texas. Temperatures dropped to ranges between 17º F and 35º F. This type of weather event had not occurred in South Texas since 1989, and the electrical grid was quickly overwhelmed, plunging millions of Texans into darkness, with no heat and often no running water. All of this as the COVID-19 pandemic raged on. But this story has a surprise ending.
Casa de Misericordia, a domestic violence shelter, was without power, telephone service, internet and water; fortunately, the shelter was not full at the time. We lost some of the contents of the refrigerator and freezer, but coworkers and neighbors brought in water and food to keep us going. Our coworkers were amazing, working double shifts and doing whatever needed to be done to keep clients and each other safe! Some had similar issues and challenges in their own homes—losing power and water—but never failed to show up on schedule.
Calls came in at all hours of the day and night from people needing help and a warm place to stay. It is always important to remind callers that Casa de Misericordia is a domestic violence shelter, not an emergency shelter, but in situations such as these, we stopped to ask ourselves, "What would Catherine do?" As of this writing, there were six families in the shelter, and power and water had been restored.
At Mercy Clinic, located on another campus in South Laredo, the only problem was low water pressure. This forced us to cancel dental services and eventually close the clinic for 48 hours, but the nurse practitioner followed up with patients by telephone, renewing or refilling prescriptions and making sure they had food. This is especially important for patients with diabetes and other chronic health conditions.
Of great concern to us is the possibility of another surge of COVID infections due to the close quarters people have been forced into to keep warm, as families with power and water take in others who need shelter. At the time of the storms, the number of COVID-19 positive cases was just beginning to go down after two months of being overwhelmingly high.
And then, in the midst of all of this upheaval, a most unexpected thing happened.
We received word from the Laredo Health Department on a Friday afternoon that they were allocating to Mercy Clinic 100 doses of COVID vaccine for use within three days. We called the vaccination team and prepared to open our doors the next morning for vaccinations. Friday evening, Sister Rosemary Welsh and I gave out donated food and blankets. One man gave us money, saying, "I knew the Sisters of Mercy would know what to do." The temperature dropped again to 25º, but the day of the vaccination clinic promised to be in the 40s and sunny. We were ready!
That morning was cold but the energy was high, and the spirit of Mercy was palpable as Mercy Clinic – Laredo coworkers reported for duty at 8 a.m. We held a brief orientation and workers receive their assignments for the drive-thru COVID-19 vaccination clinic. The team consisted of 30 staff members, two volunteers and one contract security guard. There were screeners, fillers, vaccinators, runners, observers for adverse reactions and safe exits, and data recorders who had to report data within 24 hours of vaccine administration.
A total of 96 vaccines were administered that day, with the last few doses administered early Monday morning. Some patients took the bus, some walked, others had friends or neighbors bring them, but they got to the clinic for their appointments.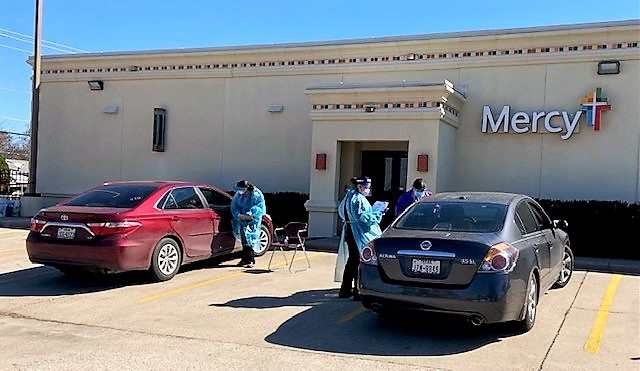 "It was a real team effort" said Issa Arredondo, a registered nurse and Mercy associate. She added, "The patients were so appreciative." Fernandina Martinez, director of clinic operations, said, "The spirit of cooperation from everyone was truly the spirit of Mercy."
There is much in these days to stop and reflect upon as we ask ourselves if we have been faithful to our mission, the mission of the Mercy Health System: "As the Sisters of Mercy before us, we bring to life the healing ministry of Jesus, with compassionate care and exceptional service."