stories
Final Vows: Feeling the boundless love of God, family and sisters 
By Sister Phuong Dong
June 10, 2023, at 4 p.m. was one of the greatest moments of my life. After 11 years in religious life as a Sister of Mercy, I professed perpetual vows! Being finally professed, I am now a full member of the Mercy Community. I know this is the path God has chosen for me to follow in Jesus' footsteps.
As the celebration began, I was overjoyed and nervous, hoping I would remember all the steps I had memorized for the profession ritual. Through the presence of the sisters, my family and friends, I felt loved and supported, which helped give me a sense of calm, happiness and peace. I also experienced delight and renewed strength at the thought of the sisters throughout the community and family members in Vietnam watching my vow ceremony via live stream. I am grateful to all for their support.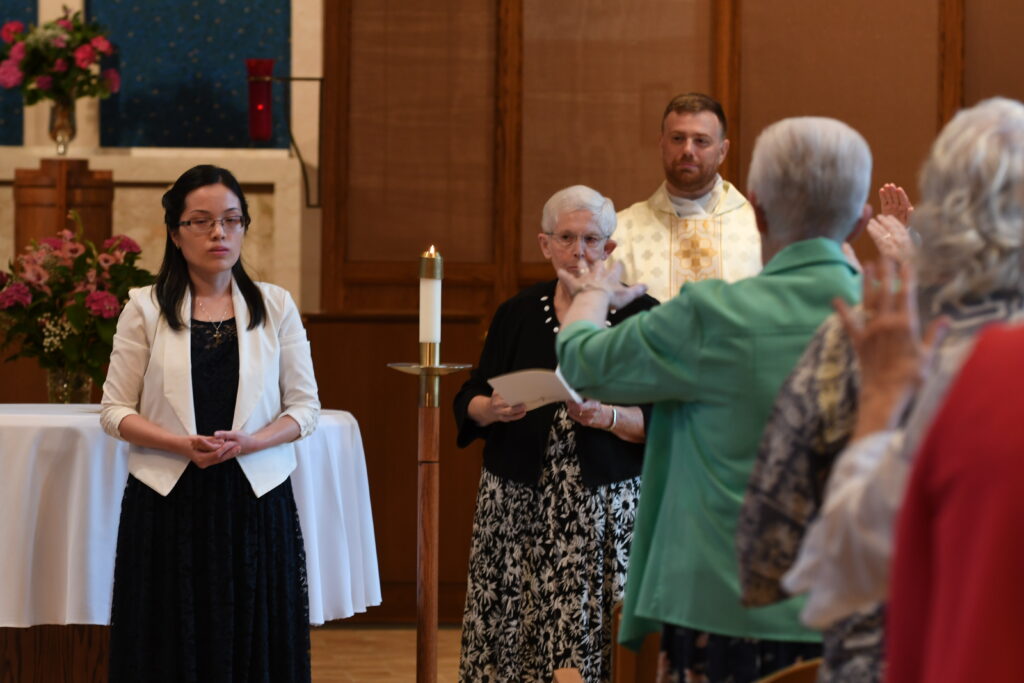 The ceremony was beautiful, simple and powerful. Not only was I making a perpetual commitment as a Sister of Mercy, but I also gave my lifetime commitment to God.
I was moved by the beautiful music by the cantors, musicians and everyone in the chapel. During each song, I silently reflected on God's love and the Suscipe of our founder, Catherine McAuley. I felt God's blessings and love as I listened to the songs, and I continue to have a sense of comfort and feel uplifted when I listen to them over and over.
The experience of prostrating was very profound. It was an intense sense of surrendering myself to God, offering God my life and asking for continued guidance. This time was special to me. I felt all the saints in heaven and the community praying with me. It was a humbling experience to ask God to receive me forever.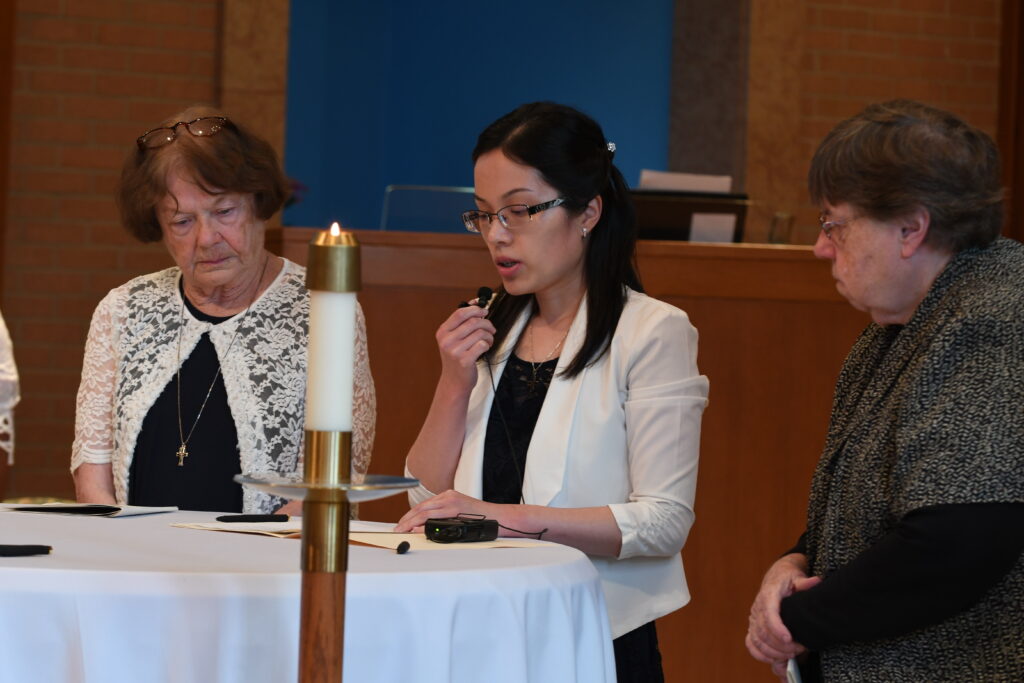 When I pronounced my vows to God and the community, I felt as if Catherine McAuley and all my fellow sisters were professing their vows again. It was a delight to announce the same four vows each sister had recited when she professed her vows. It was special to receive the gift of the ring, express my fidelity, commitment, love and faithfulness to God. I feel honored to wear a ring that signifies I was created to become God's forever friend and to receive His everlasting love.
Being able to hug all the sisters and my parents after the ritual was unique and dear to me, and I felt a continued sense of their warmth and love, a love that cannot be fully explained.
It has already been a month since my final profession, and I continue to reflect on everything that happened. The occasion was amazing, and I want to slow down enough to feel and enjoy the presence of God and the community at that moment.
Boundless love, receive my humble life, receive my soul all my days, that I may know your ways. My song shall travel near and far, to claim the Beauty that You are; words of truth and love are sown; that you, Most Hight, alone, are source and cornerstone.
Verse 3 of Boundless Love by Rufino Zaragoza, OFM