stories
Philippines sisters respond to Christmas flooding and landslides
By Catherine Walsh, Features Writer
Flooding and landslides caused by torrential Christmas rains in the southern Philippines moved Sisters of Mercy there to spring into action to offer help to those affected.
Amid the relentless rain, Sister Helen Libo-on, a local leader of the sisters, called Sister Virgencita "JenJen" Alegado, a fellow leader. "I told her, 'JenJen, we are in trouble here!'"
Sister Helen lives with two other sisters in Jimenez, Mindanao, one of the hardest-hit areas, where whole villages were submerged. The convent was not damaged, since it sits on higher ground, but many neighbors were not so fortunate.
Sister JenJen, along with Sisters Elva De Castro, Rosario "Rosie" Maulas, and Sister Jean Dy Delgado, traveled for hours by barge across a bay from Lanao del Norte, Mindanao, and by van once roads were passable, to reach Sister Helen's convent on the evening of December 26.
They brought groceries, water, medical supplies, and sandals they had purchased, as well as used clothing and other items donated by Mercy Junior College teachers, parents, and students. "God is good in that our families and friends responded generously," Sister JenJen says.
Three younger sisters, Kristine Marie Violango, Zaragosa Adlaon, and Maria Nguyen Thi Nguyet, a Mercy candidate, who happened to be in Jimenez, pitched in to help as well. "We are grateful to God for the young sisters who were with us," Sister Helen said.
The sisters put together relief packages with the help of local teachers and friends and distributed them from their van.
"Every time vans stopped on the highway, people came running," says Sister Kristine. "Despite the calamities, the people still managed to laugh and smile. They were and are so grateful for any help they receive."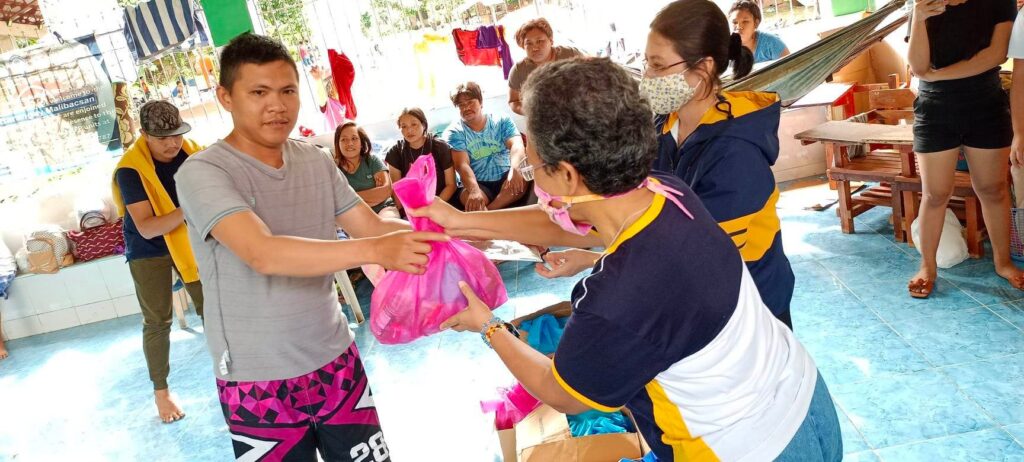 But the crisis didn't end there. The Lanao del Norte sisters had no sooner returned home when flash floods occurred on the night of January 2 in their community. "Our work did not stop in Jimenez," says Sister JenJen ruefully. She, Sister Rosie, and other sisters provided shelter at Mercy Junior College for faculty members' families and neighbors, and prepared food for them until they could return home. The college and another Mercy school in the area also gave financial help to another local Catholic school that was badly damaged in the flooding.
At least 52 people are dead, 16 are injured, and 18 are missing, according to a January 4 Philippines government news agency, which also noted that over 163,000 families have been affected and 7,000 families are still in shelters.
It was the second year in a row the sisters in the Philippines have jumped in to help in disaster relief efforts, following last year's Super Typhoon Rai. Reflecting on the back-to-back Christmas climate crises, Sister JenJen said this year's rain "is almost more frightening."
"The destruction is still terrible."
And yet the sisters' response to both climate crises heartens her.
"It gives another meaning to 'Emmanuel,' God is with us," says Sister JenJen. "We are grateful to help even if the situation is difficult, even though we don't have abundance. Yesterday Rosie and I were distributing water and people kept saying 'Oh, thank you.' This is the meaning of Christmas, to bring help and give support, to bring the presence of Christ to the people."
Disasters like this one in the Philippines underscore the importance of all Mercy efforts to engage our Critical Concern for Earth: educating the public, advocating for policy change and reducing our own carbon footprint.