stories
One Immigrant to Another: Sister Patricia Pora Accompanies Maine's Hispanics
By Catherine Walsh, Northeast Community Communications Specialist
Driving all over Maine to minister to Hispanic immigrants, who number nearly 20,000 and live in every county in this vast state, Sister Patricia Pora is propelled through 60- to 70-hour weeks by a special sense of mission. As a U.S. citizen raised in Chile, she knows what it's like to be an immigrant. As a Sister of Mercy who has assisted thousands of newcomers—particularly those who are poor—in their struggles over the last decade, she seeks to show the "human side of the immigrant face" to the people of Maine and beyond.
"Many Hispanics are assumed to be here illegally, and that's not the case," she says.
But whether the immigrants she encounters are legal or not, Sister Patricia views her role as acompañamiento, or walking with them. "I try to let them know they are valued, to provide pastoral care and serve as a bridge to the services they need," she says. "And I try to help them adapt to and participate in this culture."
From Immigration Court to a parish celebration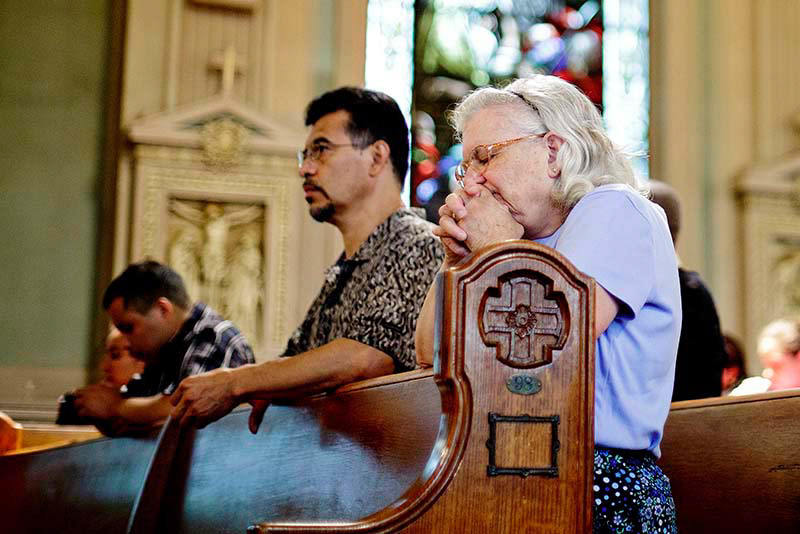 Prayer sustains Sister Patricia, who devotes 60 to 70 hours a week to her ministry with Maine's Hispanic people. Credit: Gabe Souza/Portland Press Herald.
Sister Patricia has overseen Hispanic ministry for the Diocese of Portland since 2005. Although she has an office, she works mostly out of her car.
In a typical week, she may drive a young Salvadoran man to Boston to meet with an immigration lawyer, journey several hours north to tend to the pastoral needs of Mexican farm-working families whose children needed instruction in the faith, and visit people in Portland's jail and soup kitchens. She may also serve as a translator on a doctor's visit, field a call from the state Department of Labor about jobs for new immigrants, and attend a parish cultural event that includes physicians and professors as well as those working in construction and fish processing. Somehow she finds time to put together two separate Spanish-language parish bulletins and update a bilingual Facebook page (MaineHispanicCatholics).
At night she is often hunched over her computer in the home she shares with two other Sisters of Mercy, doing research and responding to emails.
"What I do is a combination of everything," says Sister Patricia with a laugh. Cuts to Maine's social service programs in recent years have increased her work and that of the others in this ministry, she says.
Sister Patricia has been assisted at the diocese since 2008 by Rosario Sanchez Starratt, who hails from Peru. More recently, Sister Elsa Roldan, RSR, and Sister Miriam Maradiga, RSR, Holy Rosary sisters from Guatemala and Honduras respectively, have joined her in this work and taken over the baptismal instructions she used to do. Maine was recently declared a "mission diocese" by Catholic Extensions, enabling the diocese to hire the Holy Rosary sisters, as well as Jose Perez, a young man from El Salvador in the diocese's diaconate program.
"There are so many different issues for us to deal with, because the people we serve are coming from so many different places," says Sister Patricia thoughtfully.
Life-changing piano lessons
How Sister Patricia became involved in ministry with the Hispanic people of Maine is a story worth telling.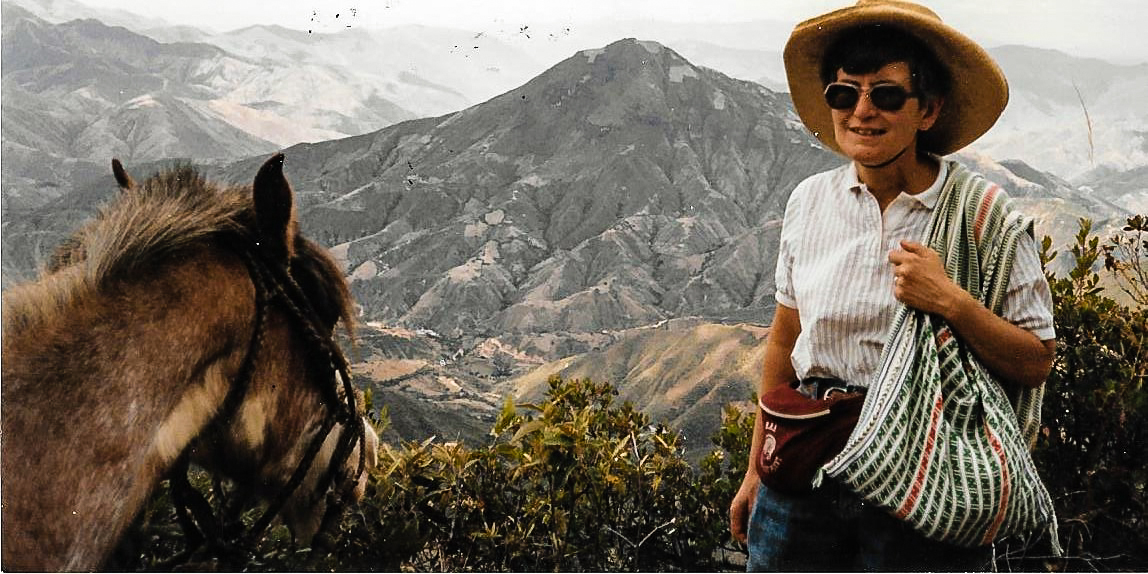 Some of the 94 villages where Sister Patricia served in Peru were so remote that they could only be reached by a 14-hour mule ride. Photo courtesy of Sister Patricia Pora.
While growing up in Chile, where her astrophysicist father worked for the Smithsonian, Patricia, a Protestant, attended Mass with her Catholic friends and converted to Catholicism in her early teens. At 16 she came to Maine to finish high school. Patricia first met the Sisters of Mercy when her host family took her for piano lessons to a sister at the Portland convent. She joined the order after she graduated.
As a young sister, Sister Patricia was eager to return to South America as a missionary. But first she worked for a couple decades as an X-ray technologist at Portland's Mercy Hospital and as a teacher on the Passamaquoddy Pleasant Point Reservation. She then spent nearly a dozen years in Peru, ministering with indigenous people in the Andes in 94 villages, some of which were 14 hours away by mule. While there, she also became involved with promoting parish health initiatives.
Upon returning to Maine, Sister Patricia worked part time at Mercy Hospital while discerning her next ministry. As word spread that the sister who understood Hispanic culture and spoke Spanish was back, she started getting requests for both spiritual and practical help. She soon saw a need and convinced the bishop to start a Hispanic ministry by showing him a census with the growing numbers of Maine's Hispanic people.
Seeking change through prayer and advocacy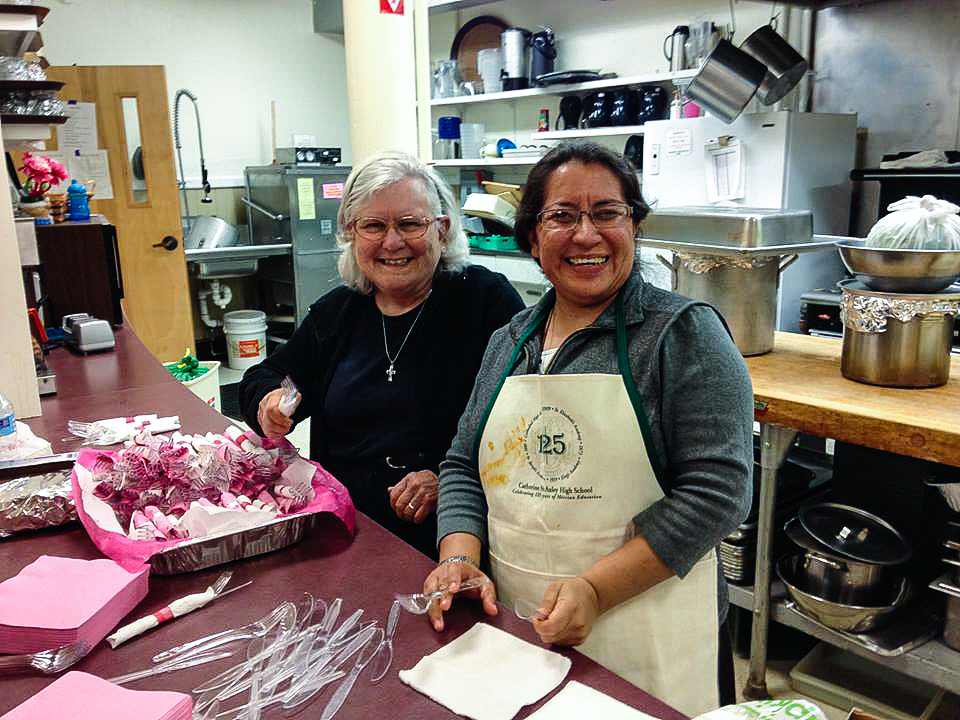 Sister Patricia Pora and Sister Elsa Roldan, RSR, of Guatemala, are all smiles as they set up for a celebratory event in the Hispanic community. Photo courtesy of Sister Patricia Pora.
These days Sister Patricia sometimes feels like an "unwelcome prophet" as she pushes for more rights and services for Hispanic immigrants. "What are most needed are acceptance and the possibility of people getting legal documents," she says. "I'm tired of the rhetoric about granting visas only to educated people. The ones who do the hard labor in this country don't qualify for visas, and they are kept in a state of slavery by not being granted legal status."
She would also like to see it become easier once again for Mexicans and Central Americans to come into the United States to work in the harvests and then return home, as they did for decades before anti-immigration sentiment became so prevalent. "Now they spend thousands of dollars to hire a coyote to get here and can't risk leaving."
Meanwhile, Sister Patricia does what she can to help the people who turn to her, whether petitioning the state's Human Rights Commission on behalf of immigrants harassed in their jobs or listening to and praying with those who suffer from homesickness. Traveling to Central and South America on occasion, especially with other Sisters of Mercy, gives her "energy for the work."
Calling her Hispanic ministry "a privilege," she adds, "I've been very enriched by my life in Mercy."