stories
A Mercy School, Cultivating Merciful Hearts
By Sister Mary C. Sullivan
Lilly Ansley-Purpura is a very good illustration of what can happen when a Mercy school offers its students opportunities to learn about the human needs of our brothers and sisters in this world, including in Haiti, the poorest country in the Western Hemisphere. Our Lady of Mercy School for Young Women in Rochester, New York, does just that through its required and highly personalized Senior Motto Project.
An annual volunteer fair hosted by teachers at the school provides upcoming senior students with information about dozens of volunteer nonprofit organizations they can research and assist in their motto projects. This year's projects ranged from volunteering and raising funds for local and national organizations including Bethany House, American Red Cross and Rochester Refugee Resettlement to participating in research projects and internships, to global outreach to countries like Haiti and Guyana.
At the Fair, a member of Mercy Focus on Haiti (MFOH) provides information about the needs in northern Haiti. Each year, some students are attracted to MFOH's mission and choose to focus on one of its projects in northern Haiti, researching the human needs underlying the project and, with the help of an MFOH mentor, partnering with MFOH's efforts in some way.
This year, Lilly Ansley-Purpura chose to research the importance of a good primary education, especially for children in very poor countries, and the negative effects of malnutrition and food insecurity on such children. She was drawn to learn more about the Lekòl Jezi-Mari (Jesus and Mary Primary School), sponsored by the Religious of Jesus and Mary in Fon Ibo. Mercy Focus on Haiti partners with that school by financially supporting its school lunch program (often the only daily meal a child has) and by providing tuition assistance for the children of ultra-poor Haitian families. Hearing about the human needs and cheerful resilience of these wonderful Haitian children moved Lilly to merciful action.
She began making sparkling bead bracelets to sell to her classmates, family, friends and neighbors to raise money for school lunches and tuition assistance for these children in Haiti. To each bracelet, she attached a note telling the bracelet-wearer that "with your purchase of this Earth-friendly and biodegradable bracelet you are helping to feed a child" and give Haitian children "one of the most valuable educations one could ask for."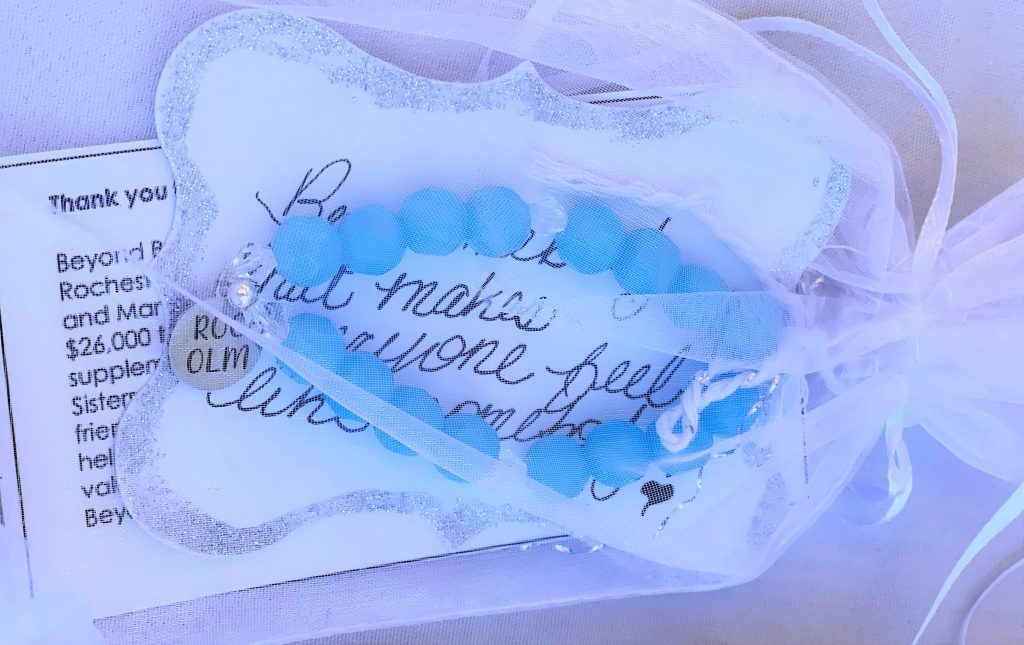 Lilly has already raised $411 to assist the Haitian children she has come to love. And the many orders for bracelets she still receives not only occupy whatever free time she has on weekends but lead her to hope that she can soon make another large donation to Mercy Focus on Haiti for the children at Lekòl Jezi-Mari.
Lilly's personal, merciful outreach to the children of northern Haiti is due, in part, to her own merciful heart, but also because Our Lady of Mercy School for Young Women has encouraged its students, including Lilly, to develop a global consciousness and to volunteer their time, talent and effort in neighborly love for their needy sisters and brothers in this world.
Would that someday Lilly Ansley-Purpura could visit northern Haiti and hug the beautiful young children whose basic human needs she is now embracing so generously. Surely this is what a Mercy education is all about!