stories
Bringing the Border Experience Home
By Elnora Bassey, Policy Advocate, Catholic Legal Immigration Network, Inc. (CLINIC)
A Mercy Border Immersion Experience in El Paso, Texas, and Ciudad Juárez, Mexico, took place May 8-13, 2022. Following is one in a series of four reflections from a participant in the experience.
In early May 2022, I arose from my cozy bed hours before sunrise to catch an early flight to the U.S.-Mexico border. An advocate attorney with the Catholic Legal Immigration Network, Inc. (CLINIC), which works to protect immigrant and humanitarian rights, I was participating in a week-long border immersion experience to El Paso, Texas, and Ciudad Juárez, Mexico, to learn more about immigration issues facing migrants during and after their journey to the U.S.-Mexico border. The program was sponsored by the Sisters of Mercy and hosted by the Columban Mission Center.
The focus was not just to go from place to place and observe, we were also there in service—to contribute our knowledge, skills and time, and to return home to share what we learned and to advocate in our daily lives.
Every day of the week was packed with events, from visiting several locations throughout El Paso and Juárez to sitting in on webinars to learn about Title 42, Migrant Protection Protocols, forced migration, the U.S. immigration process and so much more. We visited shelters where volunteers helped migrants seeking asylum. We learned how invested the community of El Paso is in helping migrants navigate the U.S. immigration system. We met single adults and entire families who were either arriving at the shelters or getting ready to leave to join their U.S.-based sponsor. Our mornings started early and ended in the late evenings with a reflection of the day's activities. For me, each day was an emotional rollercoaster.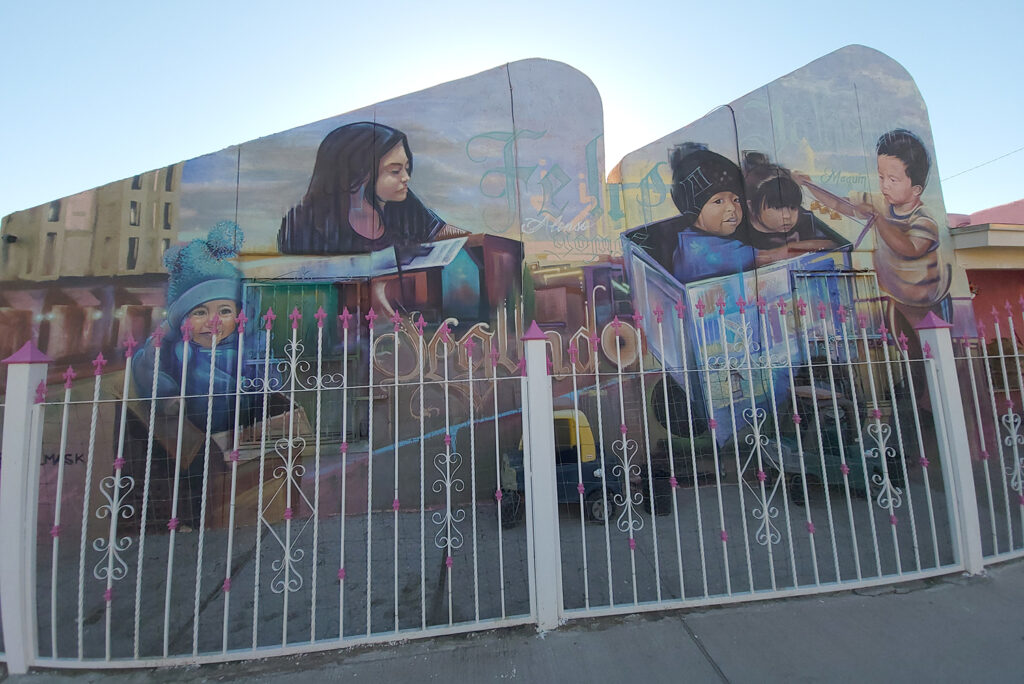 One vivid memory is of a visit to the organization Border Network for Human Rights, established to help people in the community know their constitutional rights when dealing with government agencies. We learned about their campaign Hugs Not Walls, begun in 2016, an annual event that permits families that have not been able to visit each other in months and years due to restrictive U.S. immigration laws, to come together near the Rio Grande River to hug their family members. Each family member is given three minutes. The campaign, captured in a 28-minute Netflix documentary, A 3 Minute Hug, is a protest against racism, xenophobia and discrimination towards migrants seeking refuge. As we watched the film, there was not a dry eye in the room.
In Sunland Park, New Mexico, a short ride from El Paso, we visited the border wall, a massive steel structure, a section of which was built under the past administration. Ironically, off in the far distance was a view of Mount Cristo Rey, where a 29-foot-tall limestone statue of Christ stands upon a mountaintop and serves as a sanctuary to thousands of people in the El Paso and New Mexico area. While there, we met young children on the Mexico side who greeted us with smiles, but it just felt bizarre to me to have to engage through this massive structure. The wall sends a very clear and strong message that they are to keep out and that they are not welcome to set foot on U.S. soil. In that moment, I, as a Black woman, knew what it was to feel privilege in America.
At the Iglesia de Corpus Christi in Juarez, we met Yvonne, a migrant from El Salvador. Fleeing violence herself, she felt called to serve her Haitian brothers and sisters and gave up her own opportunity to pursue asylum in the U.S. so that she could help Haitian migrants arriving in Mexico. Due to the Migrant Protection Protocols, implemented during the past administration, Haitian migrants must remain in Mexico while waiting to seek asylum in the U.S. Yvonne's selfless act of compassion left me in tears.
What the media often portrays versus the stories we heard on the ground send conflicting messages. Migrants flee their homes because they fear for their lives, they fear for their children's lives. The truth is that many of the children make the journey alone, leaving family behind—all as a desperate attempt to find a safe place to call home. Migrants have the right to seek asylum at the U.S. ports of entry without fear of being turned away, but when the Biden administration continues to enforce policies from the Trump administration, immigration policies rooted in xenophobia and racism, it sends a message that the stranger is not welcome. The asylum system must be restored in America, and it must be done humanely and with dignity or innocent people will continue to lose their lives.
This experience changed my life, forever. In my work at CLINIC, the sign-on letters and all the work that we do to get the Biden administration to change its current policies has so much more meaning. Now that I am home and continuing the work to help our immigrant brothers and sisters, I carry this experience and all the people I met with me, people like Yvonne who remain on my mind and in my heart, propelling me in the work that I do.
---
Adapted with permission from Elnora Bassey. See the original blog post on the CLINIC website.
If you are interested in learning more, click here.